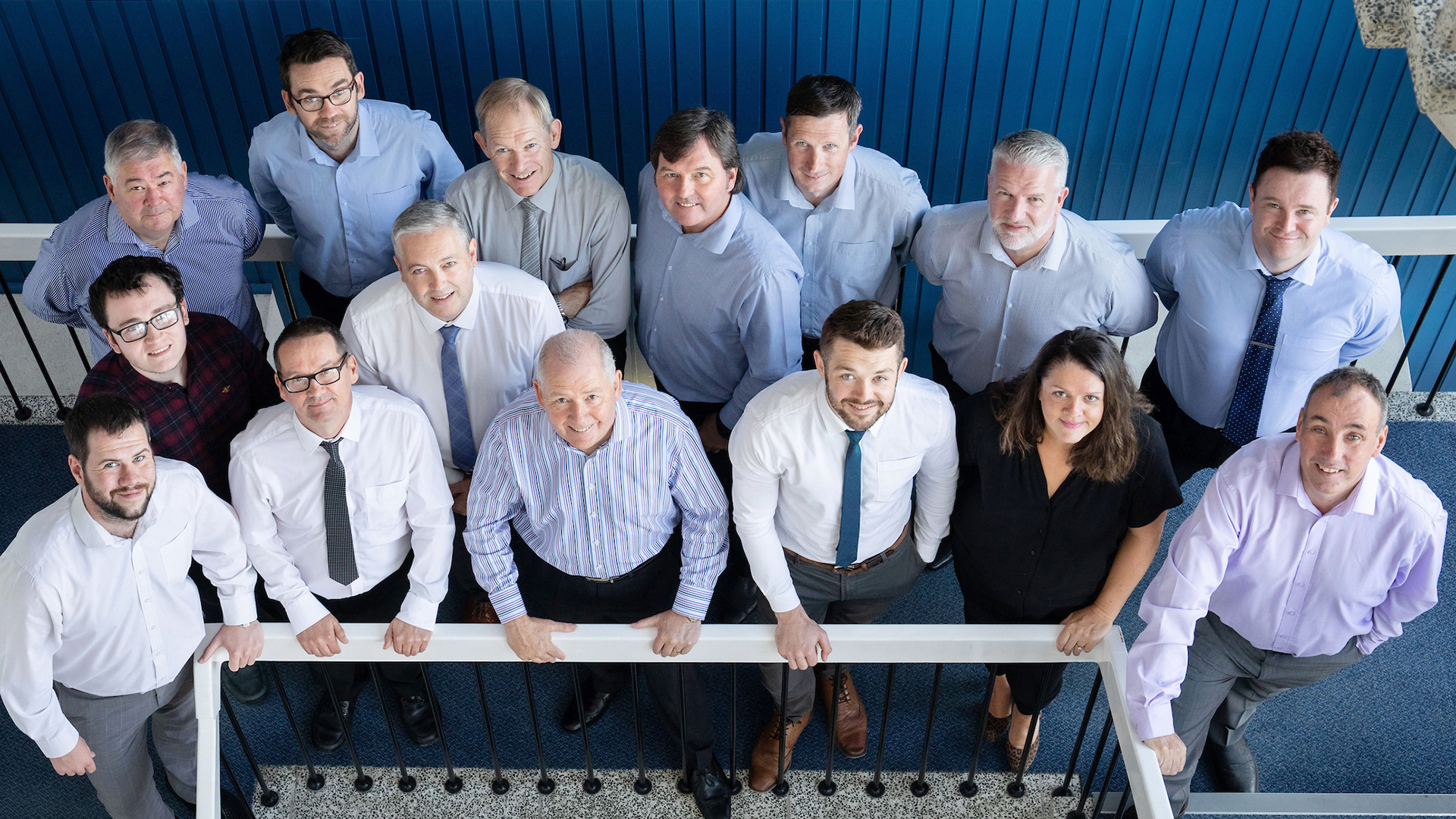 Company History
Company Founded
The company was established on 5th February 1985 by Bill Grossart in Giffnock, Glasgow.
John MacDonald Joins
John MacDonald joins the company as a partner.
Ltd Company Status
Grossart Associates became a limited company.
Hector Munro Appointed
Hector Munro appointed as a director of the company.
Employee Ownership
In August 2019 100% of the shareholding of the company was transferred to an employee ownership trust.
Stephen Cowie Appointed
Stephen Cowie appointed an employee voted director of the company.
EOT Appointments
Hector Munro appointed Managing Director as part of the EOT.

Brian Hanley and Douglas Ferguson appointed Associates as part of the EOT.
Brian Hanley Appointed
Brian Hanley appointed as new director, September 2023
Meet The Team
Hector Munro

Hector Munro // Managing Director

Hector joined the company in 2012 as an Associate Engineer and quickly moved up the ladder to Director in 2014. Hector is now our Managing Director of the Employee Owned Company. Hector is also a SER certifier. Loves a bit of golf.

Bill Grossart

Bill Grossart // Director

Bill started Grossart Associates back in 1985 and has grown the company to be the well-established engineering firm with 14 staff members, it is today. Bill is a Director and a Trustee of our Employee Owned Company. Bill is no stranger to a round of golf. Bill is also a SER certifier.

John MacDonald

John MacDonald // Director

John joined Grossart Associates as a partner alongside Bill in 1993. John is a Director within the company and is often known as the oracle of the office due to his vast knowledge and experience, except when it comes to computers.

Stephen Cowie

Stephen Cowie // Director

Stephen joined Grossart Associates in 1997 and was one of our Senior Engineers. He was recently voted by the employees to become a Staff Director of the company. Stephen is also a SER certifier and the office biker.

Brian Hanley

Brian Hanley // Director

Brian joined Grossart Associates in 2012, became a SER Certifier in 2016 and is now an Associate and an employee voted Trustee of our Employee Owned Company.

He has built up 21 years of experience in a variety of sectors, including residential developments, structures within education and commercial sectors, infrastructure works within the health care sector and temporary works projects.

Brian was appointed as a Director of the company in September 2023.

Allan Fraser

Allan Fraser // Chartered Engineer

Allan initially joined Grossart Associates in 1990 and worked as a Technician. He moved to another consultant engineers before leaving to attend university full time and gained a BEng (Hons) degree in Civil Engineering. Allan re-joined Grossart Associates in 2004 as a chartered Structural Engineer where he still resides and is currently one of our senior Engineers. Allan is also a SER certifier.

Douglas Ferguson

Douglas Ferguson // Associate

Douglas graduated from Strathclyde University in 2001 with an honours degree in Civil Engineering.

He joined Grossart Associates in 2012 as a Senior Engineer. Douglas was promoted to Associate in the business in 2019.

He has a broad experience of all forms of Civil and Structural Engineering including new build commercial, industrial, residential, healthcare, roads, drainage and SUDs, as well as refurbishments, conversions and renovations.

Douglas has experience working with various clients from individual householders to large commercial organisations and public bodies.

Kenny Campbell

Kenny Campbell // Associate

Kenny joined the Grossart Associates team in July 2020 as a Senior Engineer, and is a highly valued member of the team.

Lewis Hunter

Lewis Hunter // Senior Engineer

Lewis joined the team in July 2022.

Leon Church

Leon Church // Engineer

Leon graduated in 2004 and his first job was with McLay Collier where he worked with our Hector, Brian and Douglas. Leon joins us from Fairhurst (Glasgow) where he was Structural Engineer responsible for and managing projects involving public, private, health and commercial clients.

 His interests include playing guitar, supporting his football team, reading about history and politics and enjoying his favourite italian food and drinks with friends and family on nights out.

Allan Moore

Allan Moore // Senior Technician

Allan joined Grossart Associates in 1BC, Allan is a Senior Technician and produces structural drawings using the latest version of AutoCAD and is known for his cheerful, helpful, happy demeanour.

Claire Little

Claire Little // Senior Revit Technician

Claire joined Grossarts on 5th January 2022 bringing with her a wealth of knowledge. Delighted to have you in the Team Claire!

Stephen Maley

Stephen Maley // Technician

Stephen joined Grossart Associates at the beginning of 2018 as one of our Technicians. He comes with 35 years of experience within Consulting Engineering having worked for a number of Consultants throughout the UK. Also, Stephen is not shy to a prank or ten within the office.

Paul Sheridan

Paul Sheridan // Technician

Paul joined Grossart Associates in 1998 as a Technician and produces structural drawings using the latest version of AutoCAD.

Darren Russell

Darren Russell // Technician

Darren joined Grossart Associates in 2006 as an apprentice and is now one of our Technicians and an employee voted Trustee of our Employee Ownership.

Eoghan Goudie

Eoghan Goudie // Graduate Engineer

Eoghan worked with Grossarts on his Summer Placement 2 years ago, after graduating with 1st Class Honours we would like to welcome Eoghan back to the Grossarts team.

Rhonda Mongan

Rhonda Mongan // Office Manager

Rhonda joined Grossart Associates in 2018. Rhonda is our Office Manager (and bulldog) and keeps the guys in line.
Who We Work With
We serve over 300 active clients, of which 90% provide regular repeat business. Here's just a few of the outstanding organisations we are proud to work with.